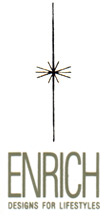 Enrich

designs in lifestyles
Enrich is an expression of good taste, building one in our passion. The firm has a DISTINCT PHILOSOPHY which finds it root in design that won't seem un-modern tomorrow simply because it was fashionable yesterday. Design that offers the best frame work for the things you don't see at first glance, but rather then things you feel. the feeling of how everyone and every bone and muscle of your body is experiencing the support and the comfort that is in its nature. To put it succinctly: quality visible and invisible luxury with concealed functions for in comparable relaxation. Design ranges customized according to your lifestyles needs, with an almost unlimited selection of innovative finishes based on your demands.
NALINI PARIKH
Individual NALINI PARIKH started the firm in 1999. She has established individually a significant presence in the field of Architecture and interior design for 8 years. since inception to present and future the company has tied up with another infrastructure company KAMLA LANDMARC GROUP as an in house designing firm since 3 years.

© Copyright 2011, All Rights Reserved.